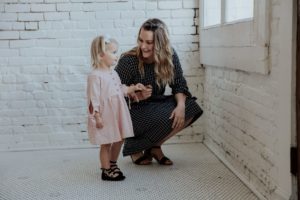 Meet Ariel! Mom of two beautiful kiddos and creator of Evan & Marin which was inspired by her dad. Ariel was one of the first Moms I met when I ventured out for my first Trotting with Tots run and made me feel so welcomed. Her warm personality and caring nature was refreshing. If you are looking for an amazing Mom friend and photographer look no further than Ariel. You can find her taking pictures of friends and family around Austin or running with her Double BOB while Lilian eats all the snacks and Finn naps.

Where are you from originally and how long have you lived in town?
I was born in Richmond, TX (south of Houston) and, aside from moving away for college, I've lived in the Austin area since high school.
How many Child do you have?
Lilian is 3 and Finis 8 month.
One thing people would be surprised to know about you…
I'm a 6th generation Texan and it was sort of a deal breaker to have my children in Texas so they can carry on the Texan tradition. My ancestors settled in Comal county.

Anyone special you'd like to thank for helping you through parenthood?
Having a community of strong women and mothers around me has been the most valuable thing for me as a new mother. Some of my best mamma friends I have met through church and Trotting with Tots. I think I had a warm, home-cooked meal for three weeks straight after my son was born!
Having my mom close has also been wonderful! Sometimes it feels like my daughter loves Grandma more than me. She's been so willing to babysit and help out in times of need. I'm definitely a better mother because of her.
Favorite things to do with your kids?
Anything outside is our favorite thing! We have explored so many parks and trails that just make us fall more and more in love with Austin.
Tells us about your work? What do you love about being a photographer? What drove you to photography?
As a nursing major in college I wanted to spend a couple months in Europe. While thinking about how to earn the money for the trip my dad, who is a commercial photographer, suggested I take some portraits for some families we knew. I had so much fun saving up for that trip taking portraits. When I returned home I switched my major to photography and haven't looked back.
I was first inspired by the technical side of photography. I loved using light to craft a beautiful shot. I have even made a few pin hole cameras and spent a significant amount of time in the dark room. From there, I have grown to love capturing the moment. Whether it is a wedding where I am capturing the love and emotion of the day to the dynamics of a family portrait filled with children young and old. I never get bored with photography!
How has this community been instrumental in getting you to where you are now?
North Austin is such a "pinch me" place to live. From the beautiful creeks to the hills and lakes the inspiration is endless. Not to mention the incredible people here. Networking is key in this industry and I have met some truly wonderful people in this area.
You can learn more about Ariel's work on her web page and Facebook Evan & Marin Photography.